Our Wellbeing philosophy
Schools have a critical role in supporting children to make healthy lifestyle choices and to understand
consequences on lifelong health and wellbeing. The link between health and wellbeing and positive
academic performance is well researched:
1. Healthy students are more alert, engaged and better able to concentrate and learn.
2. Poorly nourished children are often tired, apathetic and unable to concentrate.
3. Physical activity is associated with improved learning and concentration, better mood and behaviour
as well as healthy weight.
4. Developing strong, supportive relationships in schools provides a safer and more inclusive
environment for children to engage in their studies and learn.
Early childhood and adolescence are critical periods for developing attitudes, skills and knowledge for living a
healthy life. During this time children notice, assess and make judgements about what is normal and
desirable. Their choices depend on a host of variables such as, what is easily accessible, what is cost
effective, what their peers choose, what is common practice at home and their experiences. People make
choices from what they know. A child's health and wellbeing is dynamic and changeable.
Schools inform choices and deepen understanding of what constitutes good health choices. Schools
present learning opportunities that build upon family/cultural experiences and allow for critical analysis of
media, advertising and peer conformity.
Schools have a responsibility to teach, model, build behaviour practices and implement curriculum
requirements that support a learning environment where the connection of learning about health and
well-being is supported by alignment of action across a whole school approach.
Information below outlines how we support our children and also introduces our Wellbeing Champion Lindsey, who is striving to drive improvement and achieve the Wellbeing Charter Mark here at Hetton-le-Hole Nursery.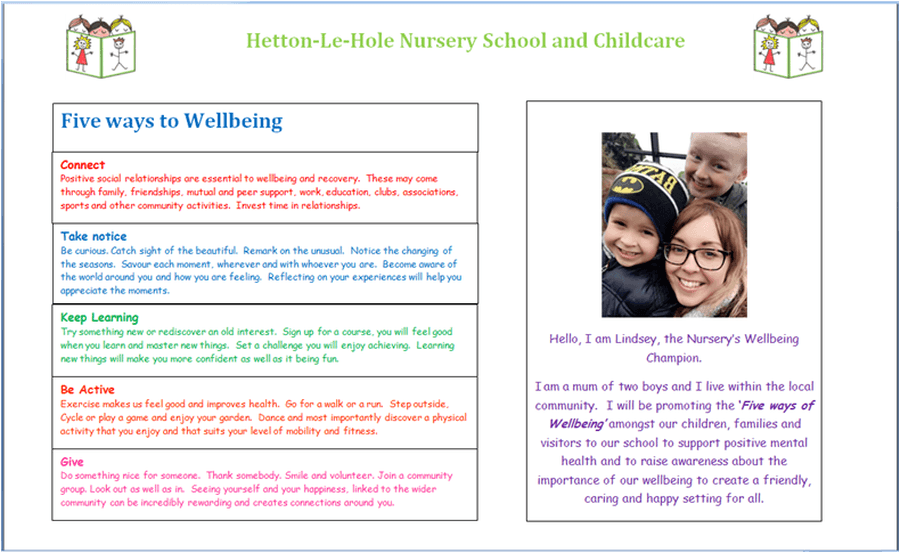 We are extremely proud of our previous Ofsted achievements. You can find links to our latest Ofsted reports on our home page. Please take time to read about the outstanding provision we offer and how we can support the various needs and interests of children aged 0-5.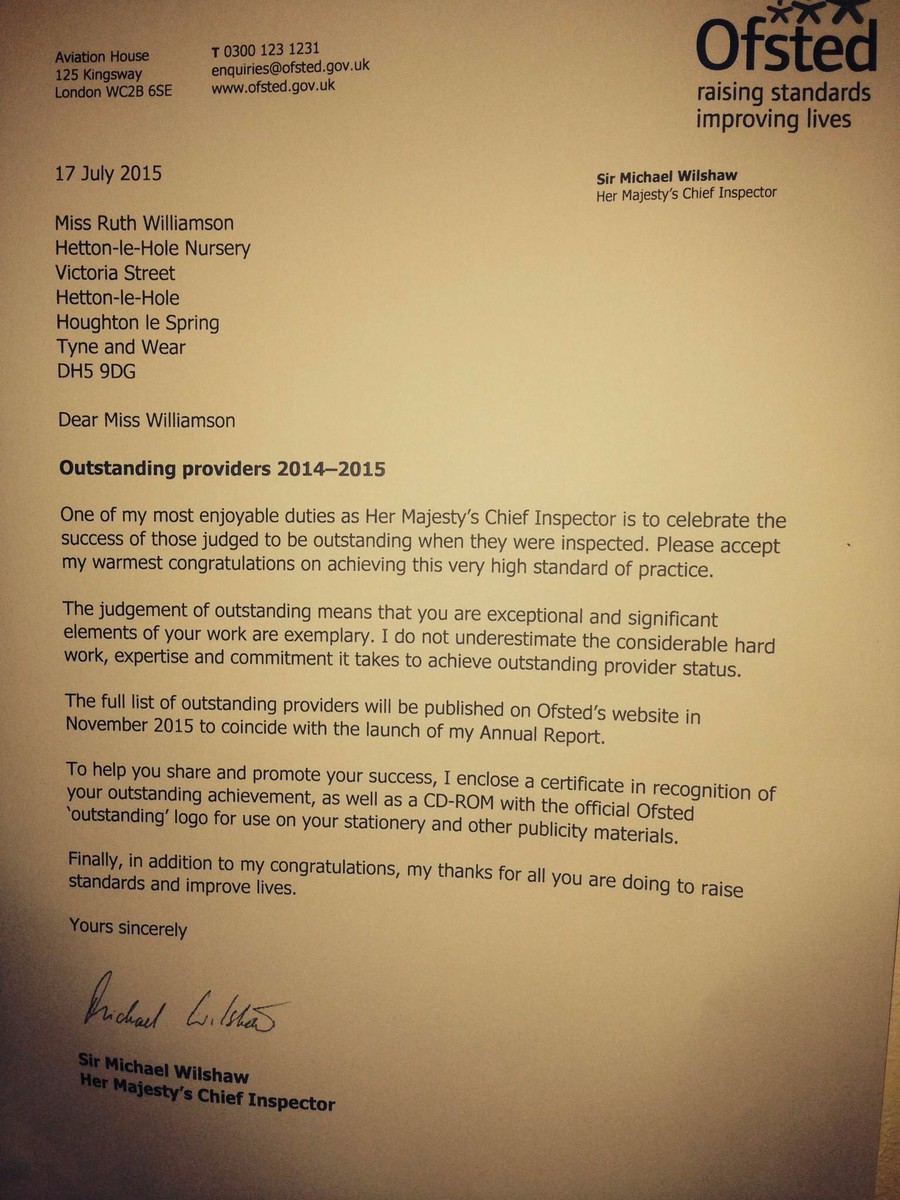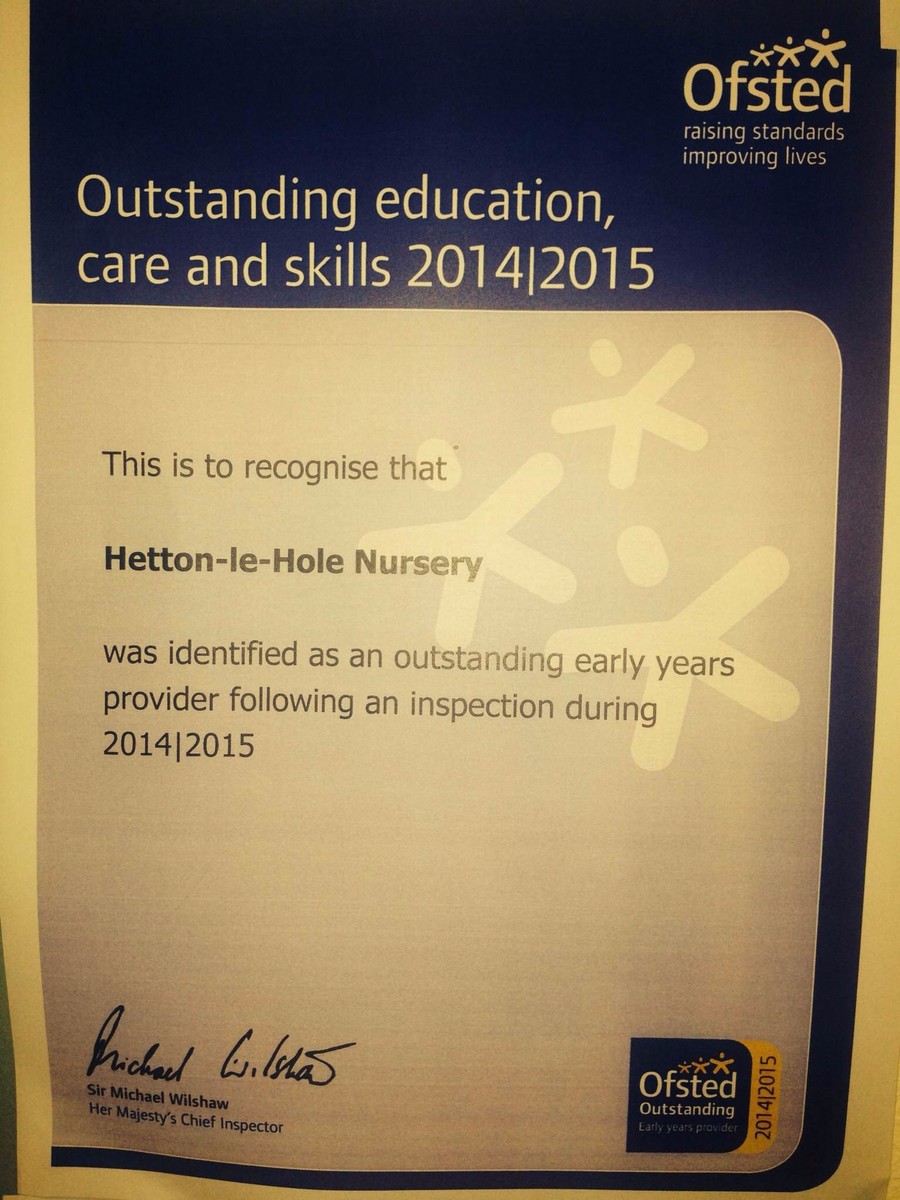 Take a look at one of our previous achievements which was celebrated by a local newspaper.
We are proud to announce that we now use Parent Mail which is an email and text messaging service to keep parents up to date with everything that is happening at the Nursery. Please make sure you sign up for this -more details can be found at the Main Office.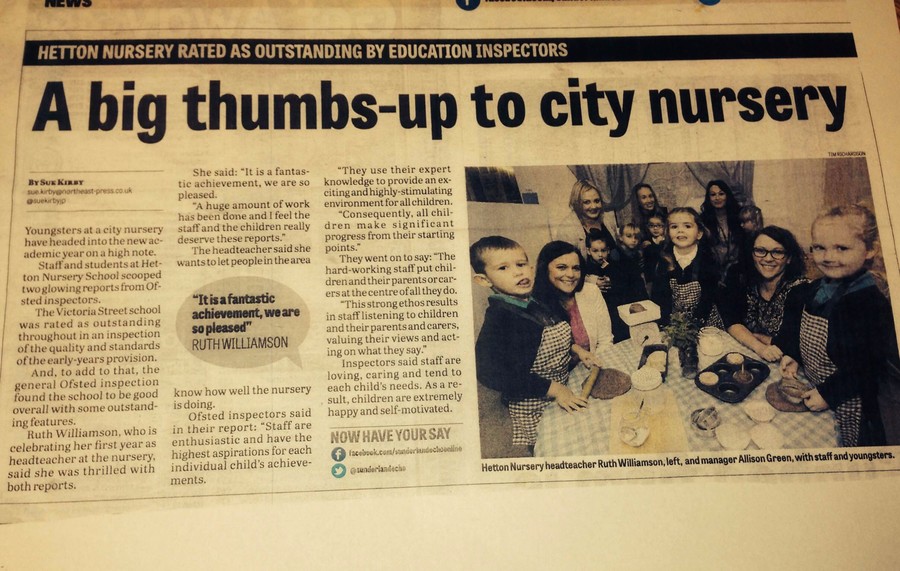 General Data Protection Regulation (GDPR)
On the 25th May 2018, the General Data Protection Regulation (GDPR) replaced the Data Protection Act 1998.
The GDPR requires public authorities and businesses to identify the lawful basis for storing personal data, audit information we already hold and take a 'data protection by design and default' approach to personal data.
It also introduces new individual rights relating to personal data, such as the right to erasure or the right to rectification.
Please see our guidance for parents document below: