The following areas are covered in detail below for your guidance:
Online Safety

Operation Encompass

Operation Endeavour

Female Genital Mutilation

PREVENT Duty
Online Safety
It is hard to believe that young children face the risks associated with online technologies but research suggests that an increasing number of pre-schoolers use smartphones, tablets or similar devices on a daily basis, often without adult supervision.
Experts believe that by raising awareness of online risks at an early age, children will be better protected as they grow up.
Here at nursery we want to ensure that all children are protected from potential harm, both within and beyond the learning environment, and therefore it is vital that e-safety is a priority for both the staff and our families. The risks that should be recognised include:
prolonged exposure to online technologies, particularly from an early age
exposure to illegal, inappropriate or harmful content
grooming
cyberbullying
making, taking and distribution of illegal images and "sexting"
physical, sexual and emotional abuse
identity theft
privacy issues
addiction to gaming or gambling
pressure from the media and targeted advertising
theft and fraud from activities such as phishing
viruses, malware, etc
damage to professional online reputation through personal online behaviour.
Below are some useful advice sheets on how to keep your child safe and how to manage screen time effectively. To support their current and future learning, children at nursery are taught about the purpose of technology. We teach the children basic skills and encourage them to learn how to use the internet safely. This work is always fully supervised by an adult. We have policies to support this work that are available from the office. If you have any questions or worries please feel free to come in and have a chat with a member of the team.
Operation Encompass
What is Operation Encompass?
The purpose of Operation Encompass is to safeguard and support children and young people who have been involved in a domestic abuse incident. Following an incident at home, children will often arrive at school distressed, upset and unprepared for the day.
Sunderland City Council, Northumbria Police and nominated Key Adults in school will be working together to make sure that school staff are made aware of an incident early enough to support pupils in school.
Why is Operation Encompass being introduced in Sunderland?
Operation Encompass was initially launched in Plymouth in February 2011 to address a shortcoming in the early sharing of information with schools. Since then several pilots have been set up across the UK, including the North East, and has proved to very successful in providing appropriate support in a timely manner. Pilots across the UK have reported positive outcomes for many children and young people.
Sunderland City Council, Northumbria Police and all schools in the city are taking part in the scheme, to help provide additional new support which will benefit children and young people in Sunderland and improve multi-agency sharing of information.
How will it work?
Schools across Sunderland will nominate two members of staff who will be known as Key Adults. All Key Adults will attend specific training to the role in preparation for Operation Encompass. The Key Adults in Hetton-le-Hole Nursery are Miss Ruth Williamson and Mr Stephen Cleghorn.
Each morning a police officer will review all domestic abuse incidents that occur outside of school but which might have had an impact on a child attending school the following day. Where children were present, witnessed or involved in a domestic abuse incident and aged between 4 and 16 years old, the officer will send this information to the Council's Initial Contact and Referral Team who will then send this information in a secure format to the named Key Adult in the child's school. The Key Adult will check their emails every day and the staff in contact with those pupils will then be in an informed position to support them in a way that is right for the child.
This information will be shared on school days during school term and, when incidents occur on a Friday, Saturday, Sunday or over a holiday period, the police will contact the Council the following Monday.
All parents will be sent a letter from their child's school informing them about Operation Encompass.
Operation Encompass launched in Sunderland in Spring 2017. For more information about Operation Encompass, please visit http://www.operationencompass.org/
If you require any help or support regarding domestic violence please see the document below which outlines the service provision within Sunderland City Council:
Operation Endeavour
This is an innovative project in which schools and colleges in Northumberland are participating, and which is run in partnership with Sunderland Safeguarding Children Partnership and Northumbria Police.
Operation Endeavour which commences on 5th November 2019, aims to support children and young people who go missing from home. Children who go missing from home are at risk of significant harm and they may be vulnerable to sexual and/or criminal exploitation, violent crime, gang exploitation, or to drug and alcohol misuse.
As a result, following any report of a child going missing to the Police, the Police will contact Children's Social Care who will then communicate relevant and necessary information to nominated school staff.
Each school has members of staff (key adults) who have been fully trained in liaising with the Police and Children's Social Care when required and will ensure that the necessary support is made available to the child or young person following their return.
This project demonstrates our school's commitment to working in partnership to safeguard and protect children, and to providing the best possible care and support for our pupils.
In the meantime, if you would like to speak to someone further about the project or require further information please contact our key adults in school who are Ruth Williamson, Headteacher or Amy Brennan, Childcare Senior Leader.
Female Genital Mutilation (FGM)
Female genital mutilation (FGM) also known as female circumcision or cutting, is a collective term for procedures which include the partial or total removal of the external female genital organs, or injury to the female genital organs, for cultural or other non-therapeutic reasons.

FGM is medically unnecessary, is extremely painful, and has serious health consequences, both at the time of the procedure, and in later life. It can also be psychologically damaging.

A number of girls die as a direct result of the procedure, from blood loss or infection. In the longer term, women who have undergone some form of FGM are twice as likely to die in childbirth, and four times more likely to give birth to a still born child.

The Female Genital Mutilation Act 2003 makes it
illegal to practice FGM in the UK

illegal to assist a girl to mutilate her own genitalia

illegal to take girls who are British Nationals or permanent residents of the UK abroad for FGM whether or not it is lawful in that country;

illegal to aid, abet, counsel or procure the carrying out of FGM abroad;

An offence under this act has a maximum penalty of up to 14 years in prison and/or a fine.
The 2003 Act has been amended by the Serious Crime Act 2015, which adds new sections 3A, 4A, 5A, 5B and 5C. These new provisions –

Introduce mandatory notification - a health care professional or teacher must make a "FGM Notification" to the police if, in the course of their duties, they discover that an act of FGM appears to have been carried out on a girl under 18.

Create an offence of failing to protect a girl under the age of 16 from FGM (the offence is committed by a person who has parental responsibility for her or has assumed responsibility for her care);

Introduce Female Genital Mutilation Protection Orders, which may include such provisions, restrictions or requirements as the court considers appropriate in order to protect a girl from FGM; or to protect a girl after FGM has been carried out; and

Give the victims of FGM a right of anonymity.
Female genital mutilation is physical abuse, and whilst it is perceived by parents not to be an act of hate, it is harmful, it is child abuse and it is unlawful. It has long lasting significant implications for those who have the procedure performed on them.

Five signs to look out for (particularly for organisations such as health and education)
1. The family belongs to a community which practices FGM
2. The family are making plans to go on holiday / requested extended leave from school
3. The child talks about a forthcoming special celebration
4. The child / woman may have difficulty walking or sitting
5. Their own mother or other siblings have had FGM

Call police on 101 if you have information about FGM, believe a child maybe at risk or feel your child being cut and out of control. In an emergency, dial 999.
Alternatively contact Crimestoppers anonymously on 0800 555 111 or the NSPCC's FGM Helpline on 0800 028 3550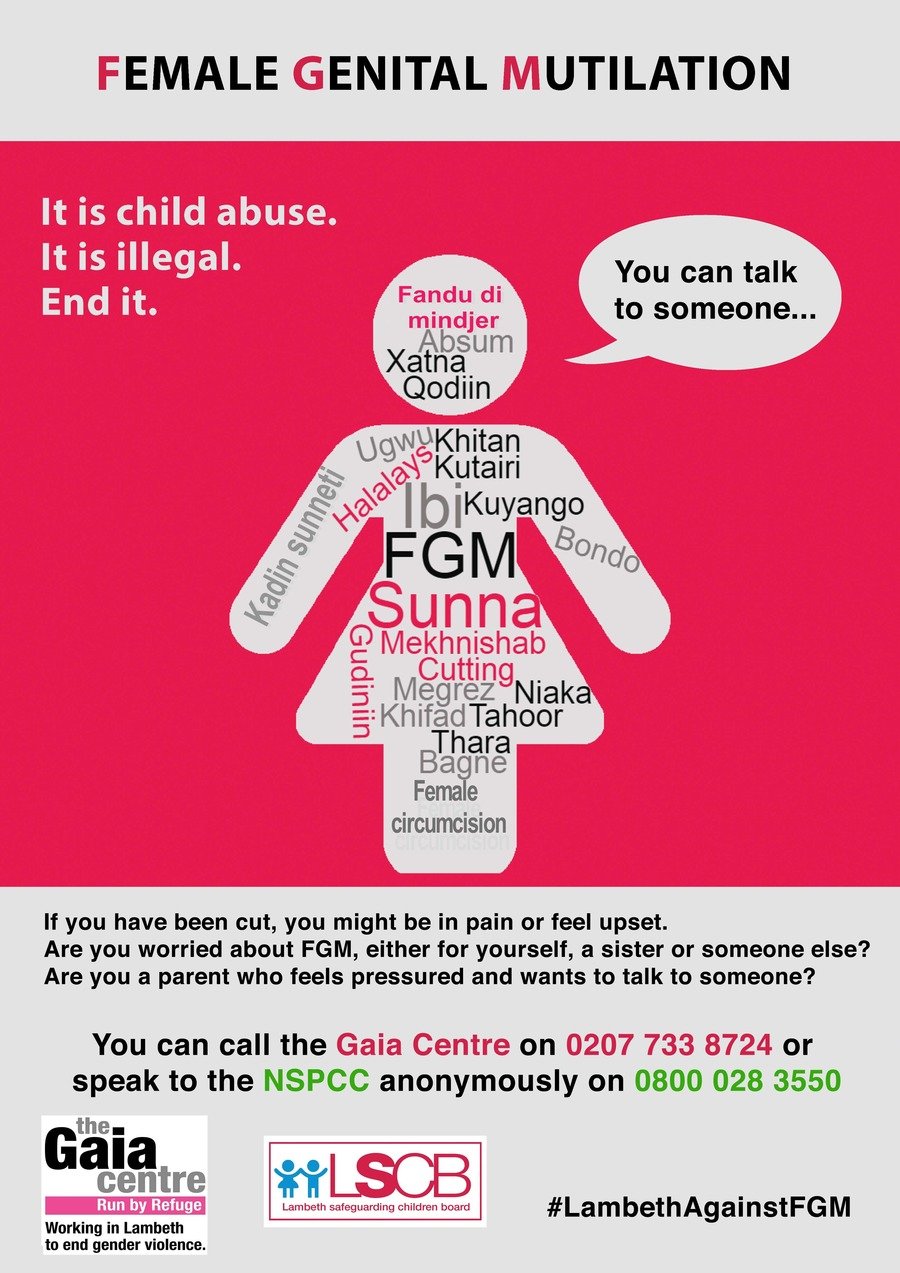 Prevent Duty
Hetton-le-Hole Nursery School is fully committed to safeguarding and promoting the welfare of all its pupils. As a school we recognise that safeguarding against radicalisation is no different from safeguarding against any other vulnerability.
All staff are expected to uphold and promote the fundamental principles of British values, including democracy, the rule of law, individual liberty and mutual respect, and tolerance of those with different faiths and beliefs.
On 1 July 2015 the Prevent duty (section 26) of The Counter-Terrorism and Security Act 2015 came into force. This duty places the responsibility on local authorities to have due regard to the need to prevent people from being drawn into terrorism.
As part of Hetton-le-Hole Nursery School's commitment to safeguarding and child protection we fully support the government's Prevent Strategy.
prevent_duty_guidance_england_wales (1).pdf
Click here for a useful leaflet for parents. Copies of this leaflet are also available from the school office.