SEND
At Hetton-le-Hole Nursery School we aim to provide a secure and caring environment where we can meet the needs of every child. We welcome all children in the community and ensure that they all have the opportunity to fulfil their potential and to participate in all areas of school life, including access to the Early Years Curriculum.
All Sunderland Local Authority (LA) maintained schools have a similar approach to meeting the needs of pupils with Special Educational Needs and are supported by the LA to ensure that all pupils, regardless of their specific needs, make the best possible progress in school.
All schools are supported to be as inclusive as possible, with the needs of pupils with Special Educational Needs and Disabilities (SEND) being met in a mainstream setting wherever possible.
The broad areas of SEND need are:
Communication and Interaction

Cognition and Learning

Social, Emotional and Mental Health Difficulties

Sensory and/or Physical
Included on this page is an overview about Speech and Language Development and the use of Makaton within the setting.
You may also find the information you need within the documents listed below;
Hetton-le-Hole Nursery SEND information report
Hetton-le-Hole Nursery SEND policy
Education, Health and Care Plan Information
Accessibility Plan (paper copies available from the school office)
Our SEND governor is Mrs Stacey Egan. Mrs Egan works with the Headteacher/ SENDCO to ensure that the best support is available to all children within our School.
If you would like any specific information about SEND at Hetton-le-Hole nursery school please speak to Ruth Williamson (SENDCO) on:
0191 5171770 or email hetton.nursery@schools.sunderland.gov.uk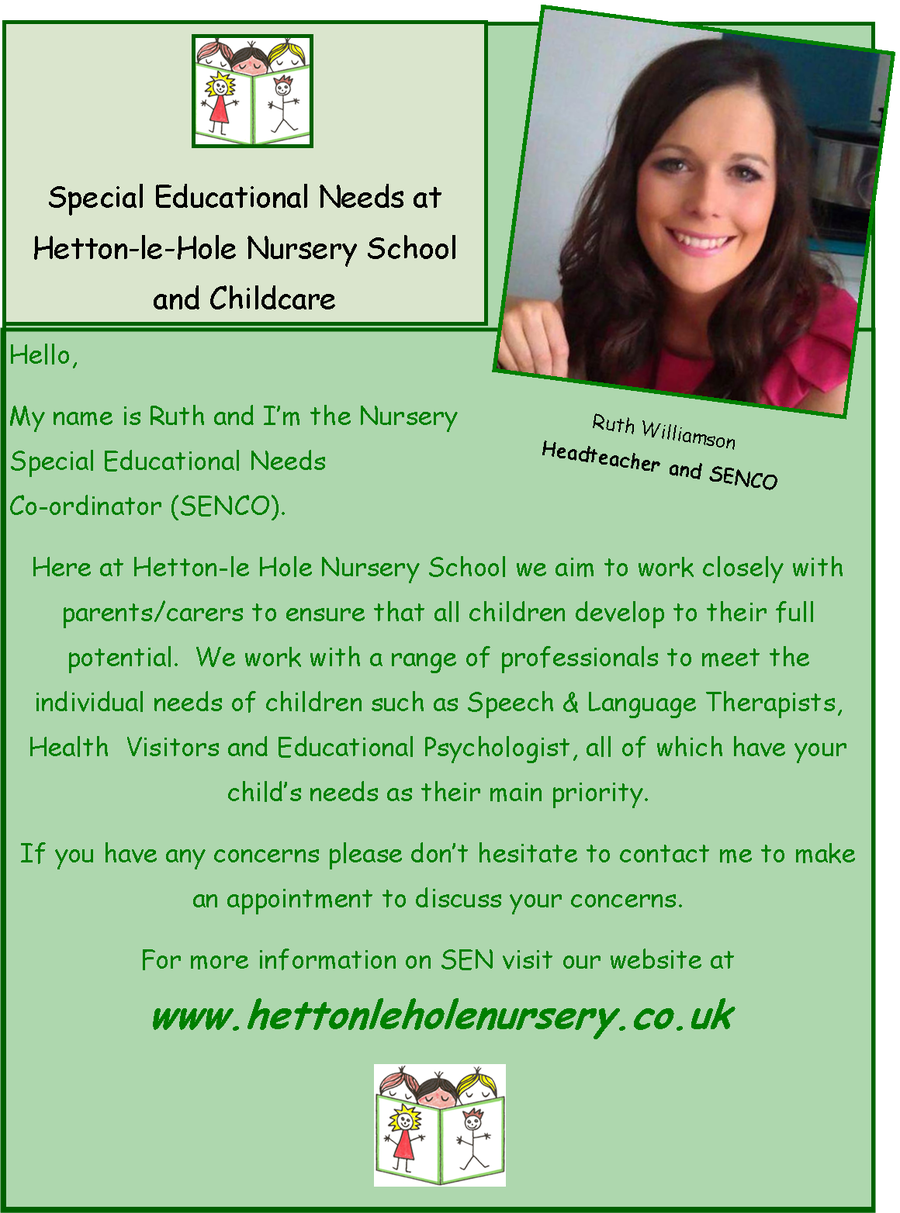 We also work closely with Helen Snowball our school Educational Psychologist. She works in our school on a termly basis alongside our SENDco,
Click here to find out more about the work Helen does.
Speech and Language Development
At nursery we place great emphasis upon the development of effective speech and language skills for all children, as we believe that this enables them to become confident capable learners.
We offer children a variety of support when they arrive at nursery ranging from individualised support from their key worker, to specific intervention work, to speech and language therapy referrals.
We also offer a range of advice and support and will happily signpost families to other agencies and professionals when required.
We are extremely lucky to have two trained Makaton practitioners, Lindsey Hoggin and Faith Cole, who run parent sessions, peer mentor other members of our team and offer support and guidance to other practitioners from other settings.
You can find out more about Makaton by clicking on the link below:
Are you concerned about you child's speech and language development?
If you are don't panic we are here to support you and your child. Please come in and speak to your child's key worker or the SENDco Ruth Williamson. Most children at some point in their school life may find something tricky and may need some extra support. Early intervention is the key to success and can quickly help and resolve any issues.
Take a look at some of the links below as there is lots of information about speech and language development and there is even some indicators which can help you to find out if your child does need some additional support.
Speech and language therapy assessments
If you would like any further advice or support please feel free to contact the school on 0191 5171770